Heat exchanger cleaning of a joint unit of PetroChina Petrochemical Company
Release time:2017-05-27Author:Click:2110
  1、Cleaning range



Process number

Device name

Model

Cleaning target

Parra Stern

Ex heat exchanger

E-1001

A regular heat exchanger for crude oil

BES800-4.0-160-6/25-4I

Heavy oil, iron sulfide

D740 742

E-1003

An ordinary three - line (three) heat exchanger for crude oil

BES1000-4.0-265-6/25-4Ib

Heavy oil, iron sulfide

D740 742

E-1004/1、2

Crude oil one in one heat exchanger

BES1100-2.5-335-6.0/25-2I

Heavy oil, iron sulfide

D740 742

E-1005/1、2

Crude oil one line heat exchanger

BES900-4.0-215-6/25-2Ib

Heavy oil, iron sulfide

D740 742

E-1201/1-4

Crude oil reduction and reduction cycle heat exchanger

BES1200-4.0-400-6/25-2I

Heavy oil, iron sulfide

D740 742

E-1202

Crude oil is reduced by two (3) heat exchanger

BES1200-1.8/2.2-400-6.0/25-2Ib

Heavy oil, iron sulfide

D740 742

E-1203/1、2

Crude oil reduced slag (four) heat exchanger

BES1200-2.5-400-6/25-2I

Heavy oil, iron sulfide

D740 742

E-1203/3

Crude oil reduced slag (four) heat exchanger

BES1200-2.5-505-6.0/19-2 Ib

Heavy oil, iron sulfide

D740 742

Off heat exchanger

E-1006/1、2

After removal of crude oil, a constant weight (two) heat exchanger

BES1200-2.5-400-6.0/25-2Ib

Heavy oil, iron sulfide

D740 742

E-1007

An ordinary three - line (two) heat exchanger for crude oil

BES800-2.5-160-6.0/25-4I

Heavy oil, iron sulfide

D740 742

E-1008/1、2

Crude oil heat exchanger

BES1100-2.5-335-6.0/25-2Ib

Heavy oil, iron sulfide

D740 742

E-1009

After removal of crude oil, an ordinary three wire (a) heat exchanger

BES800-4.0-165-6/25-2Ib

重油、硫化亚铁

D740 742

E-1010/1、2

After removal of crude oil, a constant weight (1) heat exchanger

BES1200-4.0-400-6.0/25-2Ib

Heavy oil, iron sulfide

D740 742

E-1204/1、2

The crude oil is reduced by three (three) heat exchanger

BES1100-2.5-325-6/2-2I

Heavy oil, iron sulfide

D740 742

E-1218/1、2

Crude oil heat exchanger

BES1200-2.5-505-6/19-2I

Heavy oil, iron sulfide

D740 742

E-1205/1、2

After removing crude oil, a slag reduction (3) heat exchanger is used

BES1100-2.5-325-6/25-4I

Heavy oil, iron sulfide

D740 742

E-1206/1、2

The crude oil is reduced by two (two) heat exchanger

BES1100-4.0-335-6/25-2I

Heavy oil, iron sulfide

D740 742

E-1208/1、2

The crude oil is reduced by three (two) heat exchanger

BES1100-4.0-335-6/25-2I

Heavy oil, iron sulfide

D740 742

E-1219/3、4

After removal, crude oil is reduced by 1 (1) heat exchanger

BES1100-4.0-335-6/25-2I

Heavy oil, iron sulfide

D740 742

E-1219/1

After removal, crude oil is reduced by 1 (1) heat exchanger

LBQ1200-2.5-LT2

Heavy oil, iron sulfide

D740 742

Flash heat exchanger

E-1209/1、2

One off two and one medium heat exchanger

BES1100-4.0-325-6/25-4I

Heavy oil, iron sulfide

D740 742

E-1210/1-4

Flash bottom slag reduction (I) heat exchanger

BES1200-2.08-400-6/25-2I

Heavy oil, iron sulfide

D740 742

E-1210/5

Flash bottom slag reduction (I) heat exchanger

BES1200-4.0-400-6.0/25-2 Ib

Heavy oil, iron sulfide

D740 742

E-1211/1-4

Flash bottom slag reduction (two) heat exchanger

BES1100-4.0-335-6/25-2I

Heavy oil, iron sulfide

D740 742

E-1212/1-4

Flash bottom minus three (a) heat exchanger

BES1100-4.0-335-6/25-2I

Heavy oil, iron sulfide

D740 742

E-1213/1-4

Flash bottom minus 2 (two) heat exchanger

BES1100-4.0-335-6/25-2I

Heavy oil, iron sulfide

D740 742

E-1214/1、2

Flash bottom minus 2 (1) heat exchanger

BES1200-4.0-500-6/19-2I

Heavy oil, iron sulfide

D740 742

E-1214/3一5

Flash bottom minus 2 (1) heat exchanger

BES1200-4.0-500-6/19-2Ib

Heavy oil, iron sulfide

D740 742

Constant weight

E-1023/1、2

Often restart the shutdown cooler

BES1200-4.0-400-6.0/25-2Ib

Heavy oil, iron sulfide

D740 742

Vacuum residue

E-1217/1-3

Slag less water cooler

BES1200-2.5-400-6/25-2I

Heavy oil, iron sulfide

D740 742
  2、time node: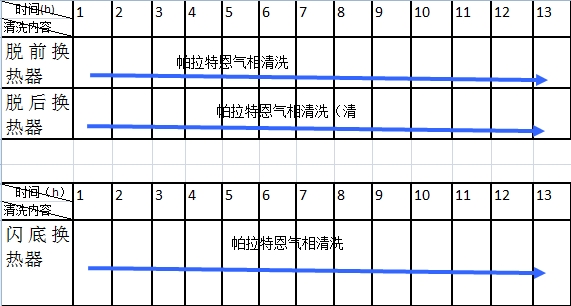 3、Cleaning effect
  1) The gas phase cleaning of parattah en atmospheric column, vacuum tower, distillation tower of hydrogen sulfide (H2S), iron sulfide (FeS), light oil cleaning, after cleaning device inside the hydrogen sulfide and other toxic gases content is 0, visual observation device internal clean and can see no light oil residue device for inner wall of metal color.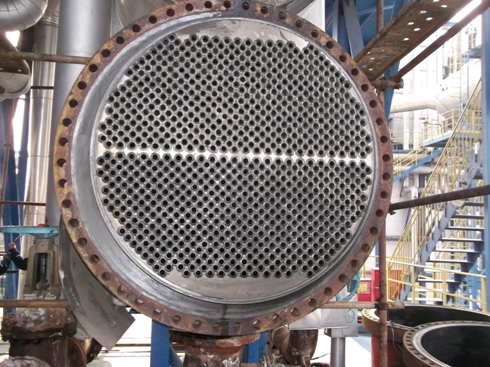 2)The end of the cleaning device opens the manhole, the operator carries the instrument to detect, and the hydrogen sulfide alarm does not alarm.
  3) After opening the manhole, after six hours of ventilation, the maintenance personnel can enter the equipment and start the operation directly.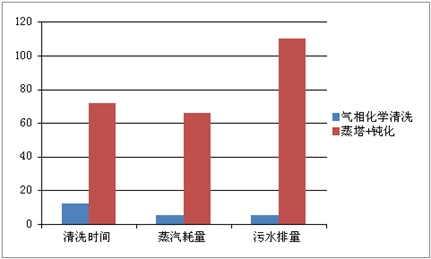 After testing, the PetroChina Dagang Petrochemical Company shutdown maintenance device, by Parra Stern (Paratene) after gas phase cleaning to achieve the desired objectives, improve production efficiency and get the recognition and affirmation of the manufacturers.
Previous article:No
Next article:No